It's no secret that we have long been advocates for equality in the workplace. We take pride in sharing our passion and commitment to diversity and acceptance of individuals in all walks of life.
Our commitment to inclusion & diversity
At The CRM Firm, inclusion is one of our core values. We are firm believers that diversity drives innovation and results, and our differences should be valued. We feel priveleged to live in a time where equality is on the forefront of conversations. It is our vow to never stop learning and striving to do all we can to be part of the ongoing movement of acceptance.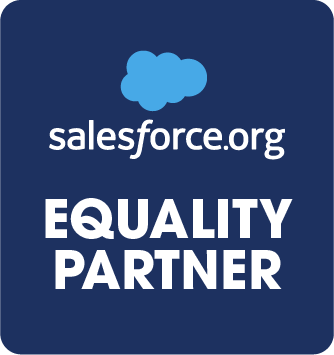 Proudly Woman-Owned & a Salesforce Equality Partner.
The sense of responsibility we have to keep pressing forward is a privilege, and we are honored to be included in a spotlight alongside other great women-owned companies!
IDENTIFY AS DIVERSE
We are proud to be a 72% total diverse group with 31% of respondents identifying as diverse based on LGBTQ+, Ethnicity, Religion, Military, Disability.
WOMEN IN LEADERSHIP
In addition to being a woman-founded and woman-owned business, our executive leadership team currently boasts 66% total positions held by women.
POSITIONS HELD BY WOMEN
Women have long been underrepresented in tech and computer science focused careers. With 58% women on our team, we are nearly double the national average of 26% women in tech positions.
Polled data current as of February 2023.
"I can say without hesitation that the engagement and partnership of The CRM Firm stands above the rest. They are professional, knowledgeable, and are 100% the firm that we will (and do) continue work with on any Salesforce project."
CHARLES ARIS, PROFESSIONAL SERVICES